Looking to shop for handicrafts in Rajasthan, India! Well, which better place than the Pink City or city of Jaipur to shop for handicrafts, be it classic handicrafts, beautifully crafted jewelry, or rich and colorful textiles.
Well known as a tourist destination, the streets of Jaipur are flocked by millions of tourists every year. Not only this pink city is famous for its landscape with beautiful buildings and forts, but also for the variety of handicrafts and other local products manufactured in Rajasthan including artistic fabrics, beautiful and well crafted handicrafts and finest jewelry. Let's find a little more about each of these hand made products:
Intricate Jewelry of Jaipur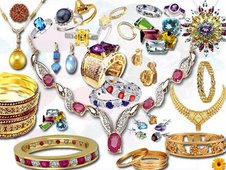 The city of Rajasthan from time immemorial is renowned for its rich deposits of precious Gems, be it Ruby, Emerald, Garnet, Topaz, Jade, or Lapis Luzuli. Jaipur's Johari Bazar, a world famous hub of jewelry both real and imitation has a large number of big and small jewelry shops visited by tourists and localities alike.
The patterns and designs found on these jewelry pieces are both unmatched and intricate. What's more, many of these pieces have different forms of elephants and birds such as elephants or peacocks crafted on them, especially in pieces crafted from jade or topaz. Not only this, the expert gem artists of Jaipur use beads and precious stones and carve them into beautiful figures too.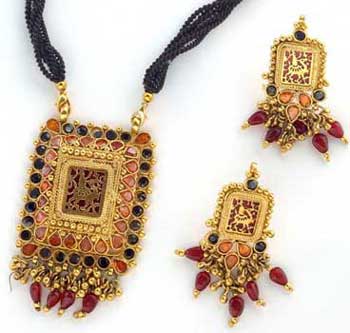 So what does this exclusive collection of ornaments consist of? Well, it can contain an armlet or a Baajuband, Judamani or a hairclip, a Tagdi or a belt and a Bodla that adorne's a women's forehead. What's more the jewelry bazaars in the city are full of traditional ethnically carved pieces made of beads, pearls, silver, diamond, and even metals.
Some of the famous destinations for purchasing the traditional Rajasthani Jewelry pieces are the Haldion ka Rasta, Tripolia Bazar, M.I. Road, and the very famous Johari Bazaar. All these markets are full of women folk at any given point of time.
Jaipur's HandiCrafts
Known all over the world for its class and idiosyncrasy, Jaipur is the India's famous center for handicrafts and handmade stuff. If you're an art enthusiast or an art collector, the Jaipur's flee market is a one place you must visit to look and purchase a variety of art assortments. These handicrafts contain some of the finest pieces ranging from metal work to wood work and even some of the finest stone and marble pieces, and even pottery. This handicraft collection admired by one and all offers a large number of products to its admirers including paintings, sculptures, games such as chess played from decades, furnishings to decorate your house, carved furniture, and much more.
Continue reading Jaipur's Handicrafts – A Wide Range Of Souvenirs