In Rajasthan Shekhawati comes across as a repository of rare art forms. This exquisite art form has remained trapped to its origin and has succeeded in becoming one of the major tourist attractions. Havelis and Mahals in Shekhawati boast of extremely beautiful wall and ceiling paintings. Many of them depict the lost traditions where as some of them clearly portray the advancement of society.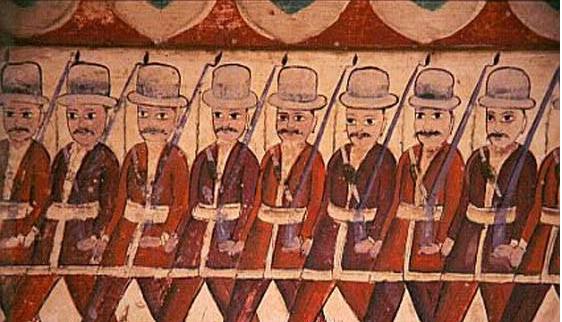 Jhunjhunu in Shekhawati region typically is famous for its grand Havelis. Jhunjhunu was founded by Kayamkhani Navabs around 15th century. It was ruled by them till it was taken over by the Rajput ruler Sardul Singh in 1730 AD. He ruled the town successfully till independence. Mohanlal Ishwardas Modi haveli counts among one of the most exquisite and sought after havelis of Jhunjhunu. It is particularly famous for its Lord Krishna paintings.
History:
Mohanlal Ishwardas Modi Haveli was built by Mohanlal Ishwardas in late 19th century. He was a wealthy and eminent merchant of Jhunjhunu. Touring of this haveli gives quite a fair idea of the effort and expenditure that has gone in the designing and embellishment of this building. Shekhawati region in whole has been home to many such affluent traders who made considerable wealth after the facilitation of transport system by the British. The well connected transport system impaired these traders with feasible options of frequent trading in their hometowns.