Birdi Chand Well
Birdi Chand Well is one of the most prominent structures situated at the north east corner of the city. It is surrounded by four large slender towers like structure known as minarets. Two minarets are primarily symbolic to the presence of step well. Water is a limited and rare resource in deserts. Hence step wells were considered to be a temple for the livelihood. In all likelihood you may be greeted with the presence of a temple at these wells. Keeping with the tradition Birdi Chand well also has a Hanuman temple in the complex. You can also find a 'Neem' tree nearby, which coherently provides the twigs to localities for cleaning their teeth.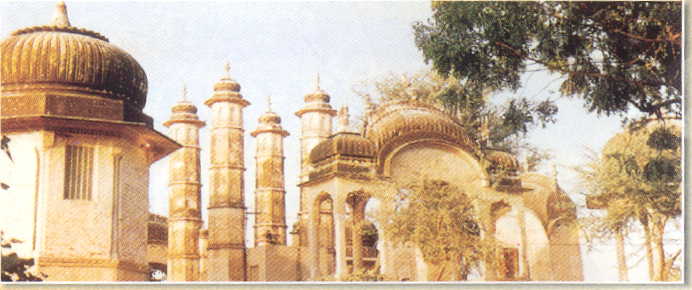 It was constructed by a rich Marwari businessman as a community centre for social purpose. It is not only a source of a precious commodity – water, but also serves the purpose of a social centre where women often would exchange important news. Not necessarily women but the well provided a platform to elderly people who would gather at the steps and discuss the political and local subjects. Build in an era when women often were not allowed to venture out on their own for recreational activities, such step wells provided them with much desired break and an opportunity to communicate with the society.
It is not an ordinary well, decorated by rich paintings and a couple of pavilions constructed nearby; Birdi Chand well has its own view of sunset to boast about. Unfortunately the paintings on minarets in absence of due care and restoration is now almost in faded condition. On the west side of Birdi Chand Well one can find an old inn which provides refuge to the passing by Caravans.
Ajit Sagar Lake
Ajit Sagar Lake is created at the farthest north corner of Jhunjhunu. It lies at the outskirts of Khetri. It is quite picturesque and mesmerizing artificially created Lake. Looking at this Lake makes us wonder the capabilities and novel ideas of the old age people. This Lake was built by Jitmai Khaitan in 1902.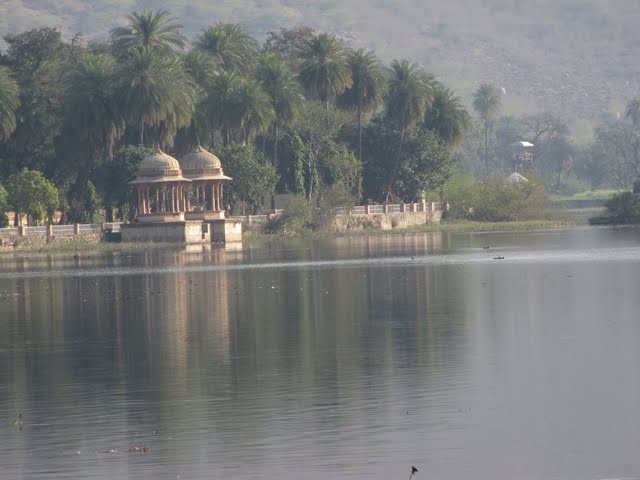 The beauty of this Lake is that it is filled with rainwater and runs down at the sides of Moda Pahar. It dries up very seldom. One can observe the classic construction of pavilions at the each corner of the lake. Exquisite murals and paintings are carved are carved at the bottom of the dome. Since the lake is filled with rain water, people often use it to quench their thirst. The raw nature beauty of this lake is worth viewing. One is also likely to find the wild Boars, Migratory Birds and Barasinghas at this Lake.