The Aath Haveli located in Nawalgarh is among most famous havelis of Rajasthan. Situated on the western side of Nawalgarh Fort; it is another spectacular creation of ancestral architect. Aath signifies a Hindi word which means eight. It is particularly symbolic of the number of Havelis combined together to weave the beautiful spectacle.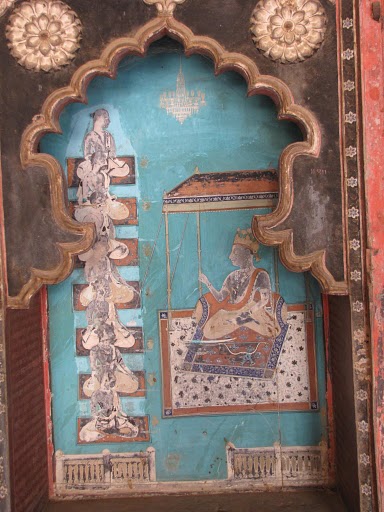 History:
Shardul Singh was amongst most successful and popular rulers of Shekhawati. Nawalgarh was founded by his son- Thakur Nawal Singh. The Aath Haveli can be counted as one of the best havelis in Rajasthan boasting of some of the finest murals and frescos in whole Shekhawati region. Nawalgarh has been quite a prosperous town of its own time in Shekhawati region. Many famous and affluent businessman origins can be safely traced back to this town. These businessmen have a huge role to play in bringing the beneficial trade practices to this town.
Aath Haveli particularly belonged to one of the wealthy trader family in the Shekhawati region. The presence of overflowing number of rich businessmen is an apt justification of these numerous Havelis existing in this part of Shekhawati. The upkeep and erection of such huge and picturesque mansions were singularly well supported by these well-off traders.
Description:
Some of the most famous havelis of Nawalgarh including Aath Haveli are Khedwal Bhawan, Anandi Lal Poddar Haveli, Murarka Haveli and Bhagton ki Haveli. These beautiful havelis are considered to be the prime tourist attractions of Nawalgarh. The awesome and intricate paintings have been phenomenal in financial upkeep of these otherwise fading structures.
The fresco designed on the walls are beautiful and reflect the rare and exquisite taste and skills of the workers who worked hard to display their aesthetic competency to the best of their ability. The paintings are typically reflective of the transition period. The particular aspect can be understood by one painting which shows the steam locomotive engine; a relatively new creation of advancement. Many other paintings display mammoth scenes of elephants, camels and horses etc.
Very much similar to all other havelis, Aath Haveli also opens into a big courtyard which is surrounded by the verandas which leads to a number of rooms. The interior frescos are eye catching in vibrant colors of red, golden, yellow and green.
Aath haveli is pride of Nawalgarh and a major tourist attraction owing to its amazing structure and beautiful murals and fresco. Constructed nearly ages ago the Haveli is soon fading and on the verge of losing the exquisite architect which is quite rare in modern era.