Apart from many other tourist attractions in Jhunjhunu, Havelis also contribute in playing a substantial role. In northern and western part of India, Havelis does not merely refer to the household of ancient Maharaja's or royal families. In addition to serving as a dwelling it also presents the exquisite and aristocratic tastes of art and architecture of that era.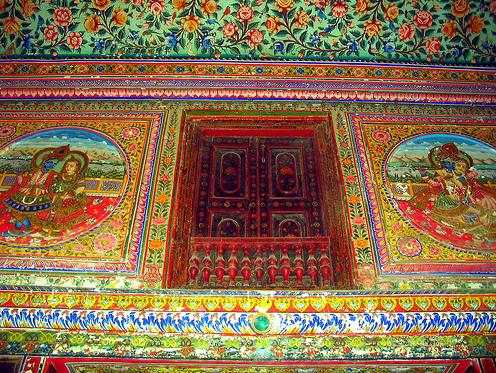 History:
Modi Haveli was constructed by Modi family. They were quite affluent traders of Jhunjhunu. For decades the Modi Haveli was used for residential purpose by Modi family.
Haveli Architecture:
The Havelis in Rajasthan in particular are well known for their rare and beautiful frescos. These wall paintings depict the exquisite taste of Shekhawati Era. Most of these frescos are set in vibrant colors of red, green and golden. They are considered to be a rare property of Shekhawati region. These Havelis usually were owned by affluent traders or royal employees. Below listed are few common terms used to describe the important sections of these Havelis.
Faatak: One of the most significant architecture consists of fine and intricately carved casements and the grand wooden doors, most popularly known as 'Faatak'. Modi Haveli also contains a depiction of Queen Victoria.
Jharokas: Quite similar to all other havelis, Modi haveli also opens into courtyard surrounded by verandah, which in turn leads to rooms. Haveli consists of numerous 'Jharokas'. These Jharoka well served the purpose of providing the ladies a glimpse of the outer world, which otherwise was prohibited for them. If observed closely it would be evident that to keep the women away from public glances was perhaps the main motive which went behind the designing of these havelis.
Mardana Khana: The ground floor consists of a common meeting hall also known as 'Mardana Khana' which was primarily meant for receiving all the guests. As the name suggests, this section was particularly meant for men socializing.
Wall Paintings:
Modi Haveli is situated near the Khetri Mahal. There are two Havelis situated opposite to each other. Eastern Haveli has a beautiful carved painting of a woman draped in blue sari seated near a gramophone. Another wall painting depicts an array of train coaches alongside which one can see soldiers on horseback. It is a clear depiction of train being escorted by the soldiers. Just above these paintings, the brackets are filled with the Lord Krishna legends. One can also see few paintings of rabbits, which seem more or less alive. Rabbit paintings were primarily introduced by British as a symbol of fertility. Another huge ramp can be seen, which serves the purpose a pathway of bridegroom for claiming his bride.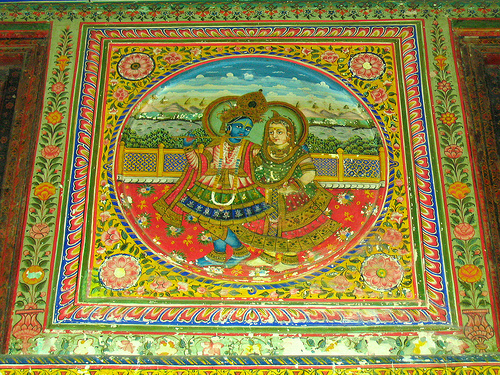 However the Haveli on western side exhibits paintings which are quite contrary to counterpart-Eastern Haveli. Most of the pictures here have a humorous urge to them, since the facial expressions cannot be missed. Wall paintings exhibit people sporting different colors and styles of turbans. These art pieces can be seen in the archway which runs between outer and inner courtyard. Some of the people seen in these paintings have enormous bushy moustaches while other can be seen in thin line moustaches which give them a comical appeal.
Historically, one may be disappointed, as Modi Haveli doesn't affiliates any profound historical background about itself. However it does boasts of some of the best wall paintings in Jhunjhunu. It can be a real treat for people who are fascinated with intricate art frescos and murals. Hence all those who are keen on visiting Jhunjhunu, should not miss the opportunity to visit the twin Modi Haveli.