Shekhawat Rajput Chatris: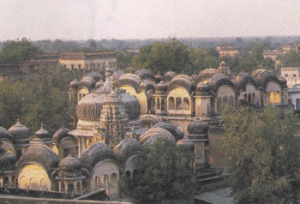 Chatris basically are dome shaped, elevated pavilions utilized as an important facet in Indian Architecture. Shekhawat Rajputs have primarily contributed a lot in the adornment of Jhunjhunu. Though many of these Chatris have been transformed into schools still quite a few remains of beautiful paintings can be seen on the inner walls which are a true reflection of the craftsmanship of that era. One cannot refrain from noticing the attractive murals and inscription which now have turned into ravages by due negligence.
In Hindu tradition Chatris are portrayed as the basic structure of Mughal architecture. The term 'Chatri' is a Hindi word which means an umbrella or canopy. They were mainly erected at the cremation sites of wealthy and affluent individuals. The traditional structure may consist of one dome on four pillars transformed into a building surrounded by many domes along with basement and several rooms. In Jhunjhunu you will find the same picturesque site inside the Chatri as that of a haveli.
Zorawargarh:
Shekhawat Rajputs no doubt have contributed their bit in building Jhunjhunu. Thakur Sardul Singh was a very brave and efficient ruler who conquered Jhunjhunu from Nawab Rohilla Khan in 1730. Zorawar Singh was the eldest son of Thakur Sardul Singh, borne by his first wife. During his tenure as a ruler he build Zorawar Garh fort in 1741.
Once upon a time a sight to see has now turned into ruins. The part which still has some ravages left from the constant negligence of property owners has now been transformed into government houses and town jail. 'Zenana Complex' which once uses to be a bright and alive with constant hustle and bustle of the royal ladies now lies barren and broken. In absence of due care to preserve the rare and ancient architecture of these Forts, the buildings now don't have much scenic beauty to offer.
Forsterganj- A British Establishment:
After the glorious era of Shekhawat Rajputs, the entry of British invaded Jhunjhunu for quite some time. Major Henry Forster was an Englishman who contributed a lot to the architect of Jhunjhunu town.
He constructed a temple and mosque in Jhunjhunu as called that part as Foresterganj. Foresterganj lies in the east of the Jhunjhunu and was also a headquarters for Shekhawati Brigade. The Jama Masjid painted in white and green furnishes a very fresh look to the mosque. The stone tablet installed by him is also one among his many other memorable creations during his stay in Jhunjhunu.
Samas Talab:
Even before Thakur Sardul Singh appeared on the land of Jhunjhunu, in the year 1450 Mohammad Khan along with his son Samas Khan defeated the Chauhans with an intention to acquire the reins of Jhunjhunu in his hands. Mohammad Khan was the first Nawab to be enlisted in the history of Jhunjhunu. His son Samas Khan ascended the throne in 1459. He was the founder of Samas Village and also constructed the beautiful Samas Talab.
Mukundgarh Fort: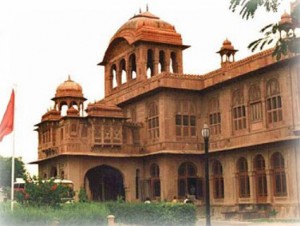 Mukundgarh is located is Jhunjhunu district about 25 Km southeast of Mandawa. The famous Fort was constructed in mid 18th century by Raja Mukund Singh and thus named after him as Mukundgarh Fort. It is a spectacular 300 year old fort with magnanimous view. Now converted into a resort the picturesque Fort is spread over an area of 2 acres. With its massive structure it truly reflects the glory and grandeur of Rajput era.
The heritage resort has unique royal experience to offer to the visitors visiting Mukundgarh. It comprises of all Modern Amenities with beautifully furnished rooms with magnificent view of fort's courtyard beyond which one can enjoy the fresh view of green vegetation. However though even being equipped with most modern amenities, Mukundgarh Fort still has some beautiful paintings and mural frescos imprinted on walls reminding the visitors of a bygone era.