Kamruddin Shah's Dargah
Kamruddin Shah's dargah is another tourist attraction of Jhunjhunu bearing much historical importance. It is situated at the bottom of the Kana Pahar hill. It is a complex which consists of 'Madrasa' (Schools with Islamic traditional teachings), a Mosque (masjid) and a 'Mehfilkhana'. The Mehfilkhana are the typical concert halls made for the purpose of holding the gathering of people where religious songs were sung.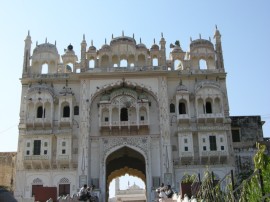 The Dargah build in the mid 19th century, is a tomb of a Muslim saint- Kamruddin Shah. He was born in 1784. A well constructed ramp can be seen leading to the huge and imposing gateway. The view from the rooftop is predominantly eye catching. Few but beautiful fragments of paintings exhibiting floral motifs can be observed around the courtyard, especially towards northern and eastern sides. Many of these probably have already been whitewashed. A small structure resembling a pyramid can also be seen inside the complex. This structure was erected on the demise of the infant son of Major Forster in 1841.
Saint Kamruddin Shah's dargah was a historical landmark in Hindu Muslim harmony. A strange depiction of this harmony between the two communities can be well seen at the entrance, in the form of a 'Swastik' symbol. The legends of kinship between Kamruddin and other Hindu saints are widely spoken of in Jhunjhunu.
Mertani ji Ki Baori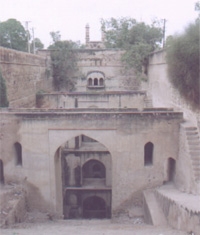 Mertani ji ki Baori is the most ancient and enticing structure in Jhunjhunu. It is a step well popularly known as 'Baori' in olden days. Rajasthan being a desert area, such step well constructions are considered to be a fine example of rare architecture. It lies at the northwest of the fort. Build in 1783 A.D., it is known to be one of the most impressive step well of Shekhawati era.  It was named after the woman who commissioned it, Mertani, widow of Sardul Singh. The Mertani Baori is an attractive structure with a series of steps descending through arches. On the other side of the Baori, the steps lead to a number of rooms for visitors to rest.
The main purpose of this 'Baori' was to serve the local people. It was a major community centre for local residents, who primarily gathered to collect water for their day to day activities. The step well has already been restored and it is approximately 30m deep. It is believed to contain sulphuric water used to cure various skin ailments. However quite contrary to this existing belief, in 1930, an English official after examining the water of Mertani Baori mentioned in his report the water to be of quite poisonous nature. He also stated that the consumption may lead to sudden death within few hours.